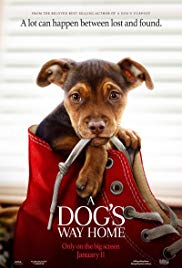 People like dogs. If you were to go out right now and ask literally anyone whether or not they like dogs, you would almost certainly receive a nearly unanimous "yes." If they say no, it should be clear that they're fully aware of how boring they must be as a person, and they believe their insistence on disagreeing with popular opinions somehow makes them unique, and will cure them of their desperate desire for attention. The point is, people like dogs, and filmmakers seem to understand this very well.
It's important to get this out of the way, I don't like dog movies. They're more often than not schlocky, unfunny, uninspired, poorly produced, manipulative piles of vomit, yet we keep getting more of them. With this in mind, my expectations walking into A Dog's Way Home, directed by Charles Martin Smith, and based on a novel of the same name by W. Bruce Cameron, should be explicitly clear. However, I should say that after viewing the film, I can happily say that I was pleasantly surprised. It was just as schlocky, unfunny, uninspired, poorly produced, and (especially) manipulative as I expected (I was pleasantly surprised because I was right, and I like being right).
As soon as the film starts, a big issue is revealed: Bryce Dallas Howard's narration. It should be said that this movie's spiritual predecessor, A Dog's Purpose, directed by Lasse Hallstrom, was also loaded with narration, provided by Josh Gad. However, I didn't mind it in that case nearly as much. The two actors play similar characters, but it's painfully clear that Josh Gad is leagues above Howard in voice acting, especially in this sort of role. It's a personal belief of mine that this film would have heavily benefited from dropping the dog's voice over altogether, but creating a movie where we can understand the dog's thought process, without it being flat-out told to us, would take genuine passion and hard work. Both traits that this team obviously does not possess.
As much as I despise dog movies, I do understand their allure. They're simple, the kind of movie you can just shut your brain off while watching. The team behind this film, however, obviously didn't get that memo. As odd as it is, I think this movie, at times, somehow tries too hard to be, well, a movie (and fails). What I mean is, opposed to sticking to the regular, "dog movie formula," this movie opts to change things up a bit. It has about three, genuine action scenes, or at least scenes shot like them. In one particularly intense moment, a shaky camera shoots our protagonist dog hero being brutally mauled by a pack of wolves, set to intense action music (a shining example of the film's tonal issues). This film also includes the "strong sidekick character leaving the hero for a bit, only to return when the hero most needs them" trope, characteristic of many a superhero movie.
If you've seen a dog movie, especially of this category, you may have an idea of just how emotionally manipulative they can be. The main method they employ to achieve this is usually straight up killing the dog. When the cute dog dies, you think "Aw the cute dog died. This movie made me feel sad, and only good movies do that. This is a good movie." Well guess what, Charles Martin Smith, I'm not falling for that. In the aforementioned spiritual predecessor, A Dog's Purpose, they found a way to kill the dog over and over again, I've become numb. Surprisingly, however, in this case I didn't have to fall for it, because (not spoiler alert, because the trailer shows us the resolution to the conflict, that's a no-no) the dog doesn't die. But if you have a real hankering to see death in your dog movies, worry not. We do get to see a homeless man die, with the dog chained to the body. Two young boys come across the cadaver to free the dog in one the most hilariously lazy scenes in the entire movie.
My obligatory-numerical-value-describing-my-movie-going-experience for A Dog's Way Home would have to be a 3/10, or maybe a 3.5 if I'm feeling generous. The final verdict: this film is bad, and not in an enjoyable way. I simply can't recommend it, the only two times I barked with laughter weren't with the film, but at it, as paw-tentious as that sounds. It wouldn't be far-fetched to say that the only experience worse than A Dog's Way Home this year, is this review's awful conclusion.