DECA
DECA provides students the opportunity to compete against other students to practice and validate his/her knowledge in marketing, business, entrepreneurship and management.
Chapter officers and members participate in leadership building activities, three competitions, community service projects, and socials. State winners qualify for the annual ICDC "national" competition in Orlando, Florida this year.
Dues: $20.00. More information can be found here.
Contact Information:
Advisers: Mr. Dale Pollard & Mrs. Tori Pollard
Email: dapollard@wsd.net & topollard@wsd.net
Room: B126 & B228
Drama Club
There is one activity per quarter. Around holidays we hold parties. You are not required to take a theatre class in order to join drama club.
Contact Information:
Adviser: Mrs. Obray
Email: auobray@wsd.net
Room: Annex #5
Gamer Group
Students who consider themselves "serious gamers" are needed in the Gamer Club. As the name implies, members learn about the different aspects of video games. Opportunities are presented to create games of their own.
Contact Information:
Adviser: Dr. Paskett
Email: thpaskett@wsd.net
Room: A108
German Club
Delicious German food, and colorful festivals. During spring there is a competition at BYU against other German speaking students from all over. You are not required to take a German class in order to participate.
Contact Information:
Adviser: Frau Sandstrom
Email: casandstrom@wsd.net
Room: B103
HOSA
Health Occupations Students of America is a club for anyone interested in the medical field. Students participate in service projects and health-related activities. Guest speakers, such as doctors or surgeons, are brought in to speak a few times per year. Every March, members also have the chance to participate in HOSA competitions. The competitions range from clinical skills to public speaking and writing.
Contact Information:
Adviser: Mr. Kap
Email: kokap@wsd.net
Room: B123
MESA
If you love math or science, or are interested in engineering, Mathematics, Engineering, Science, Achievement (MESA) is right for you. MESA members participate in challenging activities; whether it is puzzles or competitions, you'll have fun and bond with fellow members.
Contact Information:
Adviser: Mrs. Johnson
Email: hjohnson@wsd.net
Room: B105
Mountain Biking
Did you know that Fremont has a mountain biking team? If you enjoy experiencing nature while zipping down a trail come join us. We welcome all levels of talent. Spandex may or may not be required. Gear and transportation not included.
Contact Information
Adviser: Mr. Bockholt
Email: Blbockholt@wsd.net
Room: B202
PACK
PACK is a club for community service and school spirit. Members brainstorm projects which improve the quality of Fremont and the community as a whole. Anyone looking for service hours is free to attend.
Contact Information:
Adviser: Mrs. Doney
Email: nadoney@wsd.net
Room: B222
Skills USA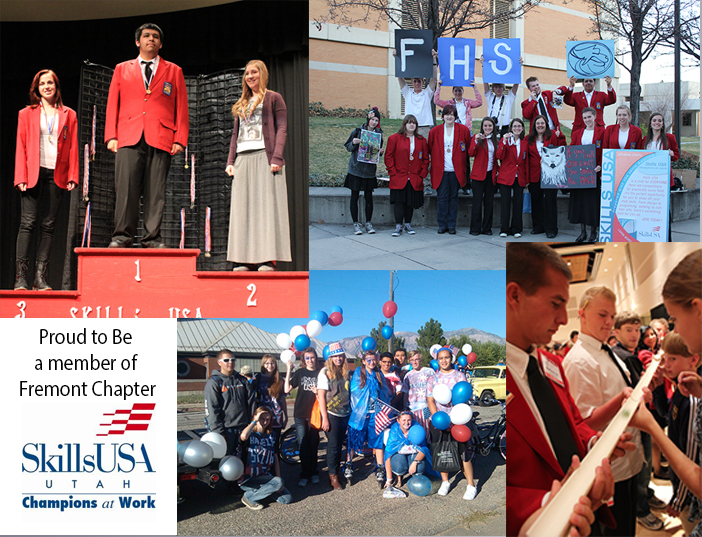 SkillsUSA is a national nonprofit organization serving teachers and high school and college students who are preparing for careers in trade, technical and skilled service occupations, including health occupations.
At Fremont High – We focus on having fun, working together, serving our community and getting ready for Regional, State and National SkillsUSA Competitions.
This year's SkillsUSA officers are:  Daelynn Sagapolu, Seattle Shakur, Hunter Tree, Austin Riley,  Autumn Holloway, Brandon Ralph, Hannah Koford, and Saul Prado
SkillsUSA is an applied method of learning where students practice skills and build self-confidence while helping their schools and communities. SkillsUSA provides experiences in leadership, teamwork, citizenship and character development. Our program emphasizes high ethical standards, superior work skills, lifelong education and pride. SkillsUSA activities foster the development of problem-solving ability and teamwork while building self-confidence and communication skills. These are qualities employers value and look for.
If you want to join and awesome club where you can meet new people, make friends for life and have tons of fun, join SkillsUSA!
$25.00 to join.  Pay the book keeper.
Contact Information:
Advisers: Mrs. Michelle Montierth, Mrs. MarykayHall & Mr. Mel Ralph
Email: mmontierth@wsd.net @ mahall@wsd.net
Room: A104 & A105
_________________
Ski & Snowboard Group
Club Goals:  Avalanche Awareness, Safety, Introduce Students to the sport
Cost to student/Family: $20 and additional cost to buy discounted passes for activities
Some information:
Avalanche Training using Peps, Probe Poles, Shear Shovel testing, and video.
Special prices on lift passes at Powder Mountain and Snow Basin.  These activities will be held on days which student is not in school (Teacher Work Days, Parent Teacher Conference, and Holidays).
Monthly meetings will be held on the 2nd Tuesday of every month in Mr. Erisoty room from 8:00-8:20 a.m.  These meetings will begin October
Contact Information:
Advisers: Mr. Arne Erisoty & Mrs. Deann Thorpe
Email: arerisoty@wsd.net & dethorpe@wsd.net
Room:
TSA
For those interested in engineering and technology, the Technology Student Association is your club. Activities include building robots and other devices. Members also learn about the components of technology.
Contact Information:
Adviser: Dr. Paskett
Email: thpaskett@wsd.net
Room: A108