Favorite Fall Activity: Hiking
With cool fall weather finally here, hiking is a great activity to try during the autumn season. Ogden offers a variety of trails ranging from easy to difficult. All the trails have beautiful scenery, especially with fall leaves in full color. It would be wise to bring plenty of water and snacks, even for the easy trails. Also, wear appropriate clothing for hiking and for fall weather. For more information, visit http://utah.com/hiking/ogden to find facts about all the trails in Ogden.
November Movie Night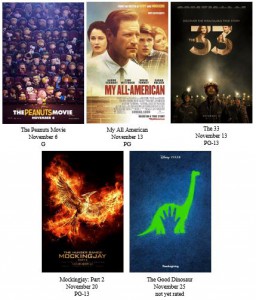 Watch for these fall movie releases in November!
The Peanuts Movie
November 6
Rated G
My All American
November 13
Rated PG
The 33
November 13
Rated PG-13
The Hunger Games Mockingjay Part 2
November 20
PG-13
The Good Dinosaur
November 25
not yet rated
Fall Recipe: Autumn Apple Pizza
Try this recipe for a quick fall dessert!