Academic flex classes give you a break from normal study halls 
There are many different options for our Flex classes but most people only choose their favorite teacher, or a class that they can play on their phones (study hall), but some flex classes are going a different route than just work time for your schooling. These classes range from cold war movies, to current events, helping you use the time you have to continue learning or to give you skills you will use in life. 
"So many students come in and just sit there so with an activity it helps with accountability,"
said Jann Welsh, the current event news teacher .
Many students don't use the flex classes to its full capability but with a class that  requires something even something small like bringing in a current event it can help to train students to be prepared even with small thing. It also gives the students the opportunity to continue learning besides doing nothing.
"We're focusing on a topic besides study hall," said Durren Montgomery, the Cold war film teacher, "but students can still go to other flex classes and work on homework."
These classes are for the people that want to continue learning when they have a period that is mostly used for something else.
"Half the student want to sign up because they want to learn something or the other half sign up because they just want to be in my class or they are just being placed in it," said Montgomery, "so half seem like they want to learn, and the other half are in it because they ended up in that class."
This is a problem because these classes are for the students who want to learn, and the students that just come in and talk create a distraction from the class itself. They provide a great experience and  great lessons but you have to be willing to come to that class and participate in what is going on.
These classes aren't just for history and news but they also provide other skills that can be gained.
Misty Robbins takes the experience of high school dating and helps students go through this awkward time. In her unique and fun class she teaches the rights and wrongs of dating etiquette. This class helps the students to know how to act appropriately on a date.
"When we talk about different topics it educates them [about dating etiquette], " said Robbins. "It helps open up conversation for dating."
This class is another example of helping students out, not only academically, but in their actual life too.
"Kids will come back from dates and they will tell us how it went," said Robbins.
They lead by example and through each other the class learns to be better dates and have a better time.
There are great Flex classes in addition to the academic study halls, providing an opportunity for students to learn a new topic, or a new skill, instead of just having "freetime." Students are usually forced to take classes, Flex gives them an opportunity to choose what they want to learn. Flex can be fun and different, focusing on something students really care about.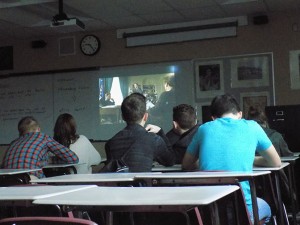 Student watching cold war films in Montgomery´s flex class
Photo: Jacob Bradford
Students providing news for their daily discussion in Welsh´s flex class.
Photo: Jacob Bradford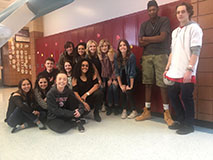 Photo: Jacob Bradford
Robbin's flex class showing love by heart attacking the school on valentine's day.
First row ( Hannah Dawson, Saydee Felt, Madison Mcnally,)
Second row (Ben Hickenlooper, Tai Meyerhoffer, Alyssa Velasquez)
Top row ( Jackson Bideaux, Brandie Miller, Kennedi Alexander, Kalley Murphy, .Baylee Jackson, Zach Taylor, Levi Bennett.)