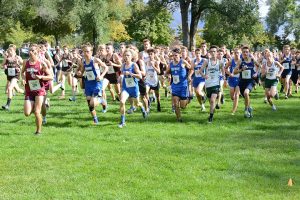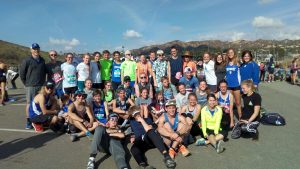 Photos: Don Sauvageau The Cross Country team practices and competes for 6 months and finishes the season off together in California.
Cross Country is more than trying to run a 5k the fastest.
Heavy breathes come from next to you. The pounding of feet and the pounding of your heart is all you can hear. You can see a big hill coming up. You brace yourself to run up it when you notice the runner next to you has slowed down. Though they wear a different color, you yell at them to keep coming with you. This is Cross Country.
The Cross Country team has had a good year this year. The girls' team won 2nd place at Region and went onto State where they got 7th. The guys' team, though they didn't do as well, did amazing considering the fact that they lost almost all of their varsity guys this year. They got 7th at Region and won an award for being in the top 10 sports GPA's in the state, with an average GPA of 3.82.
But Cross Country isn't just about winning. Though that's a big part of the team, the runners mainly focus on each other.
"It's more of a team thing," said sophomore Hallie Morris, Cross Country runner. "Like people become closer in Cross Country than they would in other sports. It really is different. I guess you're more of a family."
Most sports say that they're like family to each other. However, Cross Country embraces it. When you see one runner at school, most likely there will be another somewhere in the area.
"There's no other sport that you're parallel, or side by side, your teammates for miles on end," said Ms. Aimee Sauvageau, Cross Country coach. "So, because of that, you get to talk and communicate. With soccer, yeah, they're together in a field, or a football team, they communicate with cues of hey I'm passing to you or good job, but we get to hold conversations for literal miles on end. So, you get to know your teammates on a different level."
This family feel isn't just within the team, either. Competing teams will often cheer for one another as they pass. Weber cheers for Fremont and vice versa and both cheer for Layton and Layton cheers for them.
"It's fun, as we race, I think it's like a friendly rivalry, but I don't think it's like the hatred that other sports have," said Sauvageau. "I think of an example, there's a young man on the Layton High team that I've seen multiple [times] in races with someone on our team that is just the same pace and they've learned to just cheer each other on… I don't think it's so much of the fighting that you see in other sports, or like 'oh we got to beat them', it's more of a we're all in it together. We all understand what it feels like and the pain association. So, we want to improve and help each other."
It isn't unusual during a race to see runners from different teams pushing each other along. They'll help each other get through a difficult patch in a race. After the race, they'll congratulate and hold each other up as someone collapses.
"At the City-County meet, there's this Ogden girl who collapsed in front of me and it was clogging up the line," said Morris. "So, I was helping her stand and she's, like, practically out of it, but I'm helping her walk… [I did it] because no one else was. She looked very bad and I knew she needed help and I was right there. So, I was like, 'okay, I'll help you.'"
At the end of the day, while winning is important, Cross Country is more about the relationships you build and how much you improve. After waking up early and running six miles every day since the beginning of the summer to the middle of October, it's about how much fun you've had.