Bust out those shorts sleeved shirts and smell the roses, spring is a-go. But since it was so cold this winter, your closest if full of nothing but dark clothes. Here's some tips on how to style those for the brighter days.
E-girl: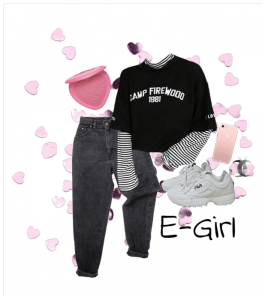 Looking for something comfortable and edgy™? Wanna look like all those girls you see in the media? All you have to do is find a black and white long sleeved tee and throw that under a regular black tee. Make sure to tuck that into your black pants. Slip on some white tennis shoes or a pair of checkered vans, slather on blush across your cheeks and nose, and add a couple hearts underneath your eyes. This look is cute, effortless, and will leave you feeling adorable.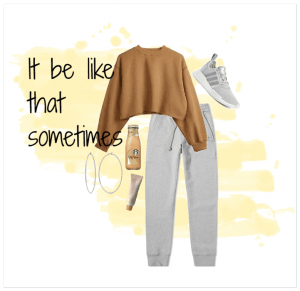 It Be Like That Sometimes:
Getting up in the morning is hard, and sometimes, you oversleep. Maybe you don't want anyone talking to you all day. Maybe you fell asleep in three classes. That's okay. A cropped sweatshirt and some sweats will keep you warm and sleepy throughout the day, so you can immediately go back to bed after school. This outfit is minimal, sweet, and doesn't take too much energy. You don't have to look your absolute best all the time. It really do be like that sometimes.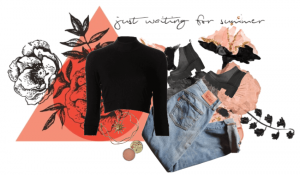 Just Waiting for Summer:
Anxious to see clear skies and flowers? I feel ya. The weather's still way too cold for all your looks and it's getting you down. A trendy black turtleneck with some blue jeans is stylish but not as layered as winter fashion gets. Pair that with some heeled boots and gold jewelry, and you'll be looking your best besides the gloomy skies. Make sure you're wearing some floral lip balm or lotion to feel like it's summer again.
Mysterious Sweater Boy:
Guys, your only option to keep warm doesn't have to be a hoodie. Try on that sweater! Tuck it into your pants, either all the way around or just a little at the front, loop a belt through, and chuck on some Chucks. Maybe add a watch for a touch of sophistication. This look will keep you stylish and feeling good without taking you too far out of your comfort zone.