During the winter season, a dress to impress outfit is difficult. You have to take into account the cold wind, snow on the ground, and if your classroom is going to be below freezing or 80 degrees. And since it's darker outside and chilly, you may want to show up to school in a pair of sweats and coffee in hand. Don't let the cold weather ruin your sense of style. Here are a few outfit ideas to keep you warm and good looking.
Peachy Keen:
A simple tee and blue skinny jeans pair can go with anything, but this warm and fuzzy jacket will make this outfit stand out. You won't freeze at school in this. Add some white converse or some slip on Vans, you'll be ready for the day without frostbite.
Cold Sk8tr Boi:
Want to look cool without freezing because you won't admit that you're cold? Don't worry! Layering a hoodie underneath a denim jacket keeps warm in and cold out, all while looking good and put together at the same time. You could layer a flannel over your hoodie before the denim jacket or tie it around your waist, just to add a pop of color. Slip on some simple shoes and you're good to go!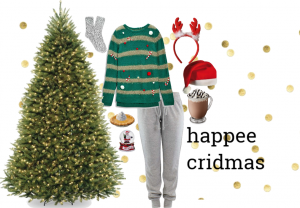 Happee Cridmas:
This outfit is made for a more specific day out of the winter, but I guess you could wear it in November. Just watch out for the Thanksgiving "stans". Throw on your ugliest Christmas sweater and some pajama pants, and top that with a santa hat. You better have those fuzzy socks on too.
Sweater Weather:
Being only two pieces, it looks pretty put together if you ask me. A stylish turtleneck and a nice pair of overalls is trendy, cute, and functional. Sneakers are comfy and won't break your feet after a day at school, but if you really wanted to add a dash of extra, pair this outfit with some black heels and gold hoops.