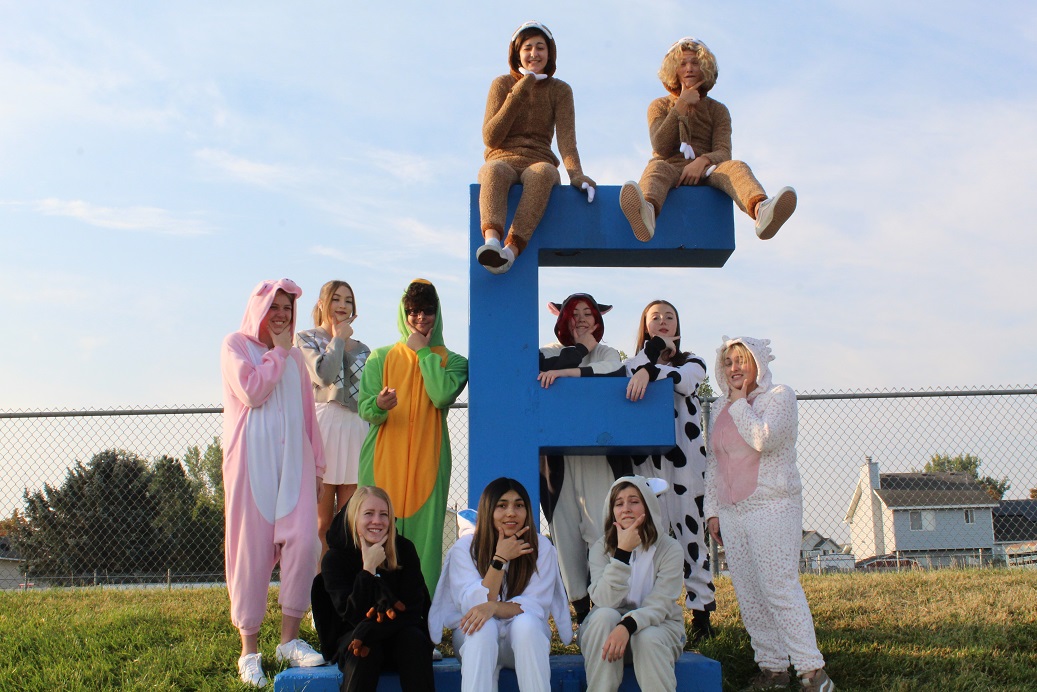 The Paw Print, Fremont's online and print newspaper, is looking for staff members for next year.
BENEFITS
Press pass privileges- You can get extra access to school events and games.
Food- Breakfast each publication day, soda bars throughout the school year, and more!.
Job/ scholarship application- Being on staff will look good on your application for jobs and scholarships. Staff members who go beyond have the opportunity to become editors and join the Quill and Scroll Honors Society for graduation cords (Full year Seniors only).
Easy and flexible- There is a smaller workload that generally involves covering the things you enjoy.
Family atmosphere- The staff is very close and the adviser is awesome. 
Changing lives/ influencing people- You have the opportunity to impact many students, teachers, and parents at Fremont.
POSITIONS
On the Paw Print staff, we are looking for fun, outgoing, and motivated individuals who like to be involved. The top qualification for being on staff is being able to hit deadlines. For Senior English credit, the following positions are available to apply for:
WRITERS: Writers report on school events, write opinion pieces and reviews, and help show a glimpse into student life at Fremont High School. Articles are short, with a maximum word count of 350 words (unless an editor approves longer). Before being accepted to staff as a writer, you must take at least one quarter of Journalism 1. It covers the basics of journalism and allows you the opportunity to prove you can hit deadlines.
We need writers for:

Sports
Arts and Entertainment
Student Life
News
Opinion
Features and Editorials
and more!
PHOTOGRAPHERS/ ILLUSTRATORS: Photographers take pictures of school events and other activities to run with articles. Also, photographers produce photojournalism pieces, or a collection of pictures they pick that they feel are worth publishing. Illustrators help with designing posters and other things that are needed, as well as draw pictures to go along with articles or fill space in the paper.
DESIGN/TECH SPECIALISTS: Design and tech specialists help with laying out the paper edition of the Paw Print and fixing technical problems with pictures or on the school website, packnews.wsd.net. They also design ads, infographics, and other special features that enhance the paper.
HOW TO APPLY
How to apply:
Sign up for Journalism 1 (especially writers) for at least one quarter.
Fill out and turn in a staff application. You can:

Pick up an application in Mr. Checketts's classroom, B-225.
You can e-mail Mr. Checketts (brchecketts@wsd.net) about getting an application, and either print it off or e-mail it to brchecketts@wsd.net.
Talk to an editor.
For junior high students: pick up an application from your counselor.
SPECIAL CIRCUMSTANCES
Conflicting classes- If you cannot take the class during the assigned period, but still want to enjoy all of the benefits, you must talk to Mr. Checketts about becoming a freelance journalist.
Application concerns- When submitting your application, let Mr. Checketts know of any reasonable conditions that may make your application appear less favorable. Again, the top qualification for being on staff is showing you can hit deadlines.
CONTACT
If you have any more questions, you can:
E-mail (brchecketts@wsd.net) the Paw Print advisor, Mr. Checketts.
Contact an editor (see "Staff" under "About" tab)
Leave a comment on this article with a way to contact you (it will not be made public).