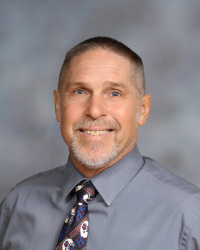 Fremont is happy to announce the addition of 11 teachers and 2 administrators to the school staff. To help everyone get to know the new staff, we decided to ask them about some of their hobbies and goals.
The two new administrators joining Fremont are Mr. Denton and Mr. Kendell. You might recognize the name Denton because Mr. Denton taught here at Fremont for 23 years, then took up an assistant principal position at Bonneville, but is finally back. With returning to Fremont, Mr. Denton said he hopes they are, "Getting better. Held to a high standard."
Now, Mr. Kendell may be brand new to Fremont, but he is excited to become part of our culture. He's excited to get to know the people he works with, along with any students that need a bit of guidance or inspiration.
The addition of 11 new teachers means that you might have one of them teaching one of your classes. All of them want to see you excel in your work and your sports; and some are even finding more ways to get involved with the student body.
Mrs. Steed, a new 11th grade English teacher, has been offered the position of Junior class advisor and is excited to take up that role so she can help support the juniors.
If there are any people out there wanting to start a video game club (that would be like Esports but not competitive), then you'll be happy to hear that Mrs. Mathews, another new English teacher, would be more than happy to be the teacher advisor for a club like that.
Mrs. Mailoto, a new health teacher, is rooting for volleyball and Mrs. Stapley, one of our new history teachers, would love to find more ways to be involved with our theater company.
Many of our new teachers are wanting to find a way to be involved here at Fremont.
Mrs. Moore is focusing on making Ancient World History fun for anyone to learn.
Mrs. Bosley, teaching the new Medical Forensics class, is happy to be back in the flow of a traditional high school, since she came from Weber Innovations which has a non-traditional setup.
Both Mr. Floyd, who teaches secondary math 2 and 3, and Mr. Beyler, who teaches US History and American Government, are trying to find some fun ways to get more involved with the community we've built here.
All of the wonderful new teachers are looking for ways to cheer you on.
Now you might have some similar hobbies to some of our new teachers.
Mrs. Mailoto loves to make and decorate wedding cakes.
Mrs. Stapley likes to collect books from different areas of the world and in their original languages.
Mrs. Bosley enjoys doing some yoga.
Mrs. Mathews has quite a passion for playing video games.
Mrs. Moore loves to spend time with her dogs and Mrs. Steed can never get enough of her 3 pugs.
Mr. Floyd likes to dabble in hiking so you could ask him about some good hiking trails.
Mr. Beyler just can't keep from going to the gym and getting some sets in.
Our administrators, Mr. Denton and Mr. Kendell, both love outdoor activities. Mr. Denton likes ATVing, and Mr. Kendell loves fly fishing.
If you have any of these teachers or end up meeting with the new administrators, don't be afraid to make some small talk with them.